Impact crusher is one kind of best seller crusher machine
Source: DSMAC By Liu Lerry Posted: Sep 09.2014 Views: 264
In recent years, urbanization construction becomes the efficiency development power for mining industry. The useful development of construction industry has good effect on the domestic economic development. Under this circumstance, traffic construction becomes the development goal for our country. As the basic industry, traffic construction development can efficiently elevate the national economy.
DSMAC treats the customer benefit as the developing goal. To better support the development of mining machinery industry, impact crusher becomes the necessary road to reduce the running cost. Impact crusher has two irreplaceable advantages: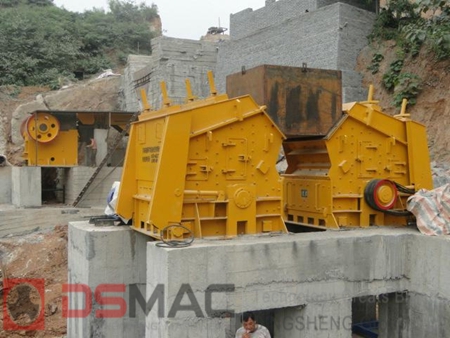 1.
Impact crusher has the original impact crushing function. Raw material between impact lining plate and impact frame do repeat crushing sport. This kind crushing way has the advantage of big crushing ratio.
2.
Impact crusher has strong adaptation for various mineral ore. It can crush the mineral ore with different hardness. To the mineral ore with medium hardness, this machine has the good crushing effect.
During the construction process, stone materials become the necessary materials. Impact crusher is one kind of best seller crusher machine in mining industry. This machine is the best choice for the gravel aggregate processing.
Related News
Inquiry
With more than 20 years old professional experience in mining machinery, we dedicate ourselves to create wealth for you! You can contact us online or send e-mail to hua.yx@dscrusher.com to order DSMAC products.