The markedly effect of sand production line
Source: DSMAC By Liu Lerry Posted: Aug 07.2014 Views: 264
Artificial sand refers to the rock particle that is crushed by the crushing machinery and then screened to the required size. Compared with the natural sand, the artificial sand has the advantages of stable quality and reasonable particle size. Along with the increasing requirement on the various building indicators, natural sand presents the physical and chemical indicators of volatility due to the differences of regional distribution and the natural weathering generated conditions. Then it is not good for the stability of concrete, especially to the high performance concrete.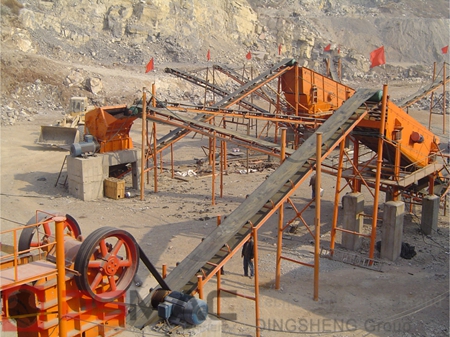 With the development of infrastruction construction and the dwindling of river sand resources, construction industry begins to search for new sand resource from
artificial sand production line
. Actually, sand production line not only solves the shortage problem of natural sand, but also becomes the important raw material of high quality concrete.
DSMAC has been engaged in the research and development of sand production over the years. The researched
sand production line
has the advantages of high automatic level, big crushing ratio, high production efficiency, and large quantity. The final product of this line has the features of no inner tear and high compressive strength. The maintenance of this production line is easy. The quick wear parts adopt the advanced high strength wear-resistance material which has the longer service life and brought considerable economic benefits.
According to the large demand of domestic sand stone industry, we should vigorously develop the innovation and upgrade of mining machinery equipment. We can provide various sand stone production lines with different specifics to meet the customer demands. The application of artificial sand will strongly promote the china's western development and the rise of central china, which has the significant effect to the whole development in the Midwest.
Related News
Inquiry
With more than 20 years old professional experience in mining machinery, we dedicate ourselves to create wealth for you! You can contact us online or send e-mail to hua.yx@dscrusher.com to order DSMAC products.